Advances of using a titanium curling iron
Cathy 2016-11-19 14:54:39
So you have heard about the titanium curling iron. There are normal titanium curling irons, mirror titanium curling irons and gold titanium curling irons.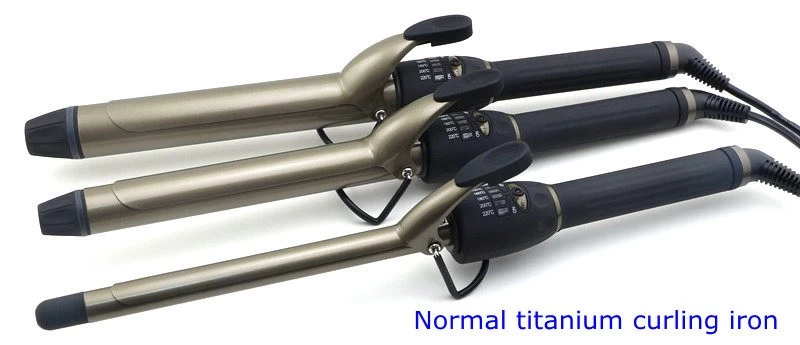 What is titanium technology?
This technology incorporates the use of titanium on hair tools. The material is placed on curling tongs and allows its properties ameliorate hair styling outcomes.
By having metallic properties, titanium technology promotes faster heating while preserving moisture in the hair, so it retains hair's natural beauty. Its properties' effects spread widely in the health and beauty industry, promoting increased sales of tools with this component.



Benefits
A curling iron with titanium feature highlights the following benefit for users.
Fast heating. Users need their flat or curling irons heat immediately to save time. Due to titanium's metallic attributes, it heats up fast and women will see perfect hairstyle soon.
Even heat distribution. In most cases, people think that metals tend to heat excessively and result to hair damage. However, titanium-covered plates ensure even heat distribution and protecting hair from scathes.
Smooth surface glides on hair easily. Titanium plates' polished surfaces move smoothly on hair, preventing tangling and ensuring your locks are protected from potential damages.
Moisture retention. Using flat and curling irons leave an impression of drying hair instead of promoting healthy appeal. However, titanium technology retains moisture to retain its perfect glow.
Promoting shine. Shiny hair is a dream for many women. This curling iron type aids in releasing negative ions that ensure shine after straightening.
Anti-rust property. Corrosion is a common problem among hair tools. With titanium, ladies can use these items for a long time as it prevents rust due to its anti-corrosion property.

With the titanium curling iron, you can experience the above benefits when curling your beloved hair.