Which flat iron is suitable for my hair type?
Michael 2017-02-18 15:50:35
As you know, different hair types, different needs. Maybe you would say "it is more difficult for me to know which flat iron is suitable for my hair type" just like my friend Miss Tony told me. If you would like to solve this problem, please follow me: You can read all about this right here.
First, If your hair is Short, you need a small iron. Try something like the FBT Air expert in 1/2 inch. You will be able to get closer to your scalp and have more control over your style because there is more space to play with. Like this one:

Second, if you have Fine hair, you know your hair better than anyone, but if heat makes it shrivel up and die, you need to go with a lower temperature flat irons. Fine hair means each strand is thin. Many people have fine hair but lots of it which can cause its own styling problems. Too hot an iron can mean it's time for a haircut when your ends look like you fry your hair. Besides, the smell of burnt hair isn't good! Another way to handle it is to get an iron with a digital readout so that you can know exactly what temperature it reaches. Control is everything when you're trying to avoid frying your hair. Like this one: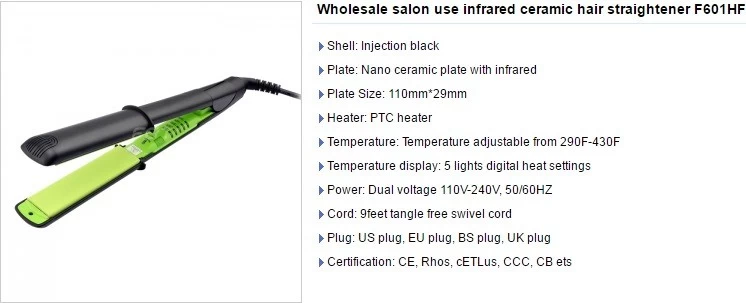 Third,if your hair are coarse & natural hair, and the strands of your hair are thick no matter how much or little you have of it, you will need a good iron that gets hot enough to handle your mane. The professional hair straightener EMS-7115 can heat up to 230 degrees Celsius at their hottest, which should be enough for just about any hair type. Like this one: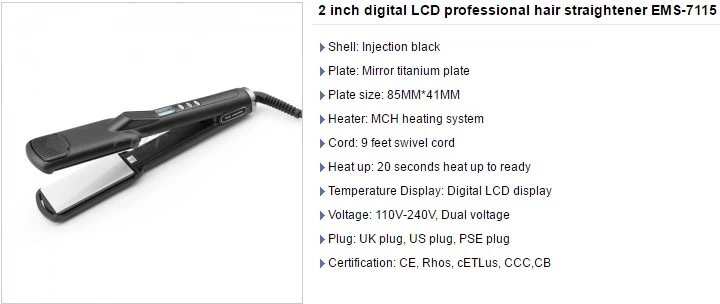 In the end, hope this article can help you. Have a nice day!