Browse Categories
Subscribe

Get email updates on new products
News

"I used a friend's curling iron the other day, and it was really hot, and now my hair smells really odd and unpleasant. I've washed it several times ...

What's my hair length? Find theright words for your length! Here is a very handy hair length chart to showthe most common hair lengths. The Short Len...

When you're choosing your next clipper or trimmer, How do you decide the type of motor you should purchase?Thethree types of hair clipper motors pivo...

What is PTC heaterand how does it work? PTC heater is called Positive Temperature Coefficient which is a unique technolog replaces the traditional hea...

    MCH vs PTC People in this hair tools industry must have to know what is MCH and what is PTC, because this decide the heat your machine can get...

As a sales consultant for hair electrical styling tools, one of the frequently asked questions by my European clients is " Do you have CE"? CE certi...

One of the main reasons for the popularity of dual voltage is that they are great for travel. Whether you are in Germany or in US, you can use a flat ...

Last week, one of my regular client(hair tool brand holder in UAE) asked me these questions. I suggested him to choose the anodized plates hair straig...

Heating hair tools usually make our lives much easier — a few strokes of a flat iron or twists of a curling iron and your desired' do is achieved. Bu...

Split ends are a common occurrence in persons with long hair. I am pointing out the five most common types of split ends and what they indicate about ...
Contact Us

+86-755-29553391


+ 86-755-29553391


sales01@fbtcorp.com

Salon use hair curling wand heated iron F998CK
Handle: Injection black
Barrel: Ceramic coating barrel
Barrel size: 25mm x 150mm
Heat: 2pcs PTC heaters
Heat up: 20 seconds start to work
Temperature display: ON/OFF switch
Voltage: 100V to 240V,dual voltage
Power: 35W to 110W
Wire cord: 2.65M PVC wire, all kinds of plug available
Package: Magnetic box
Product details:
| | |
| --- | --- |
|  Model name: |  High end heated hair wand curling iron F998CK |
|  Auto shut off: |  60 minutes after stop working |
|  Highest temperature: |  210C 410F |
|  Technical label: |  Customized |
|  Logo: |  Silk screen printing |
|  Wire label: |  High temperature warning sticker |
|  Usage: |  Home usage |
|  MOQ: |  1-100,000pcs |
|  Warranty: |  1 year |
|  Service type: |  OEM/ODM,private label |
|  Main market: |  Western Europe, North America,South America,Middle East |
|  Third party audit report: |  ISO 9001 |

Catalogue product F998CK:
F998CK (F998G) is a constant temperature hair curling iron with highest stabilzied working temperature to 210C 410F, PTC heaters makes most safe temperature control. High quality Korea ceramic powder coating barrel 150mm length with different diameter, it's a professional home use curling iron with perfect curl effect. FBT used silicon ring to indicate the temperature change, cool barrel is red color silicone ring, when hot is turns to white color.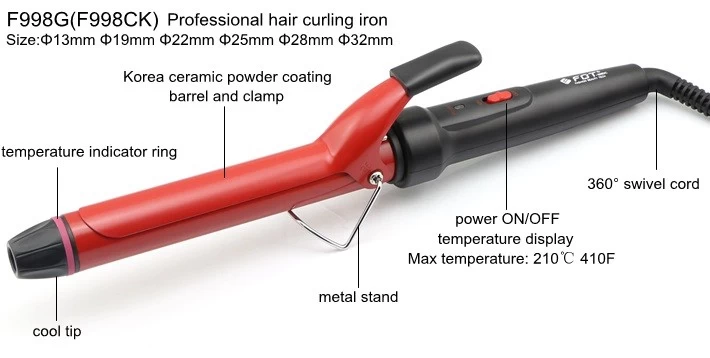 Other optional size for hair curling iron F998CK:

FBT is a professional hair styling iron manufacturer, according to different hair type needs, we manufacturering all kinds of hair curling with different barrel size to meet their needs. Here is one of the simply hair curling iron we made with six different barrel diameter for option as: Φ13mm, Φ19mm, Φ22mm, Φ25mm,Φ28mm,Φ32mm, 13mm is one of the most thin barrel to makes very tight curl hair, 25mm is for medium curls and 32mm is the thickest barrel to makes big and loose wave. We designed this product with highest temperature to 210C, 410F, most stabilized working temperature without strong impact. The color of barrel is also for optional only if you could provide us reference color number.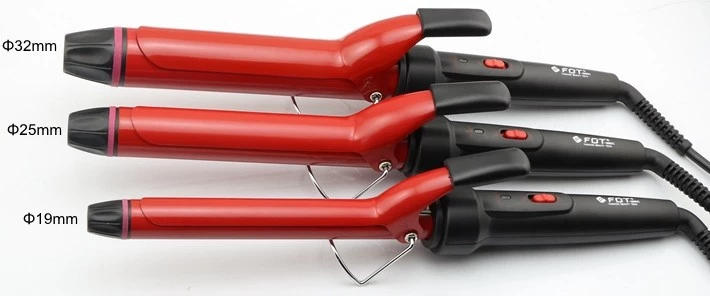 Magnetic gift box for hair curling iron F998CK:
Here is the magnetic gift box with paper inner tray and with silver stamp logo, strong structure and trangular flat, most popular design. This is one of the most popular package which be loved by our client because of the fashion design and haigh quality and high end material. FBT is a professional factory with professional team to design all kinds of products, but also have team to support you and design the package for our client or we also accept your own exclusive design, we support everything for you only if the quantity of the order can reach to 1,000pcs at one time.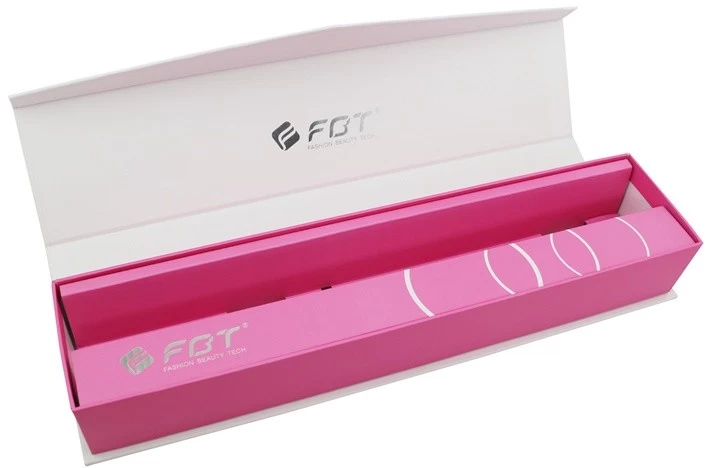 Marketing selling points of the hair curling iron F998CK:
* PTC heaters most popular temperature control
* Stabilized working temperature reach to 210C 410F
* Fashion silicon ring temperature indicator
* 360 degree free swivel cord all kinds of plug available
* High quality Korea ceramic coating barrel
* Tourmaline and argan oil infused makes shiny and health hair
* 60 minutes auto shut off when appliance stop working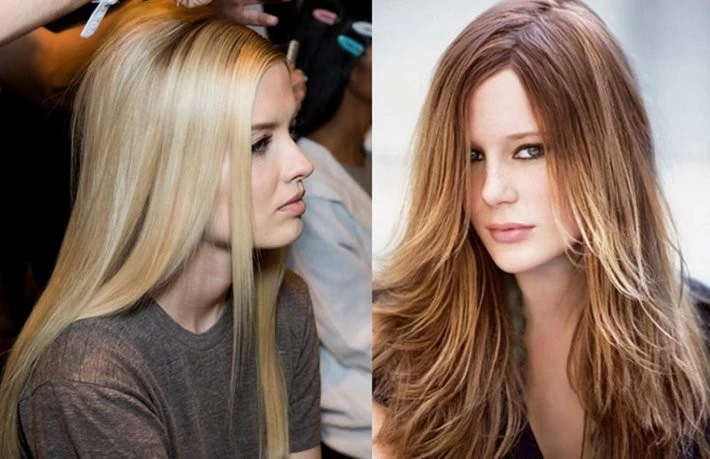 Packaging & delivery:
Packaging details:

* Magnetic gift box
* Size of GB: 12.5*31*6.5cm
* 20pcs/ctn
* Size of carton: 58.8*38.5*26cm
* G.W.: 15.8 KG
* N.W.: 8.0 KG
* 1*20GP=13750pcs
* 1*40GP=27250pcs

Delivery terms:

 Sample express by air, mass production by sea



How to use tapered curling iron F998EV:
Heated curling iron F998CK is a home usage hiar curling iron which is easy styling and easy working, FBT support different barrel size to make different curl effect. Here we chose the 25mm barrel to curling hair.
First of all, we need to wash your hair and blow dry, brush your hair nice and smooth.
Then, separated your hair into several sections, usually we styling from bottom sections to top sections, so we can leave the bottom hair at the beginning.
Third, take a small section of your hair, switch the hair flat iron on and get ready to styling.
Fourth, put the curling iron to the roots of the hair, and wrap your hair around the curling iron from root to tip.
Fifth, hold the curling iron about ten seconds, and then release it, and use your hand hold the released hair.
Sixth, do the same movement for all of your other left sections, and then using your fingers brush your hair.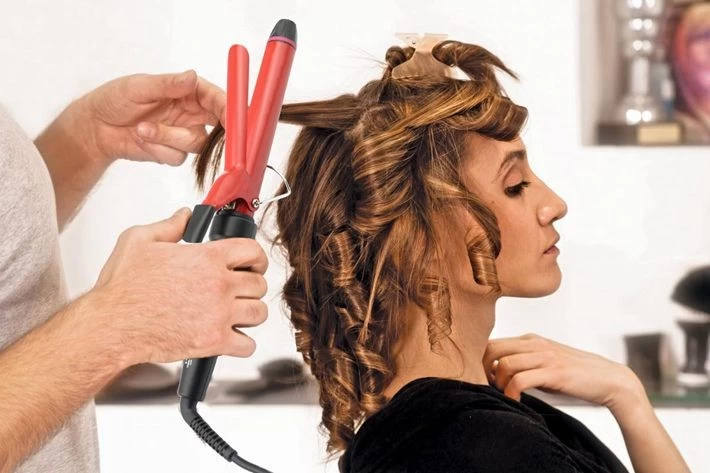 The taper curling iron you may interested in:

Salon use professional tourmaline nano silver ceramic taper iron F998EV, has tapered barrel that allows you make either tighter hair or looser hair, it's depending on where you wrap your hair. F998EV taper hair iron is a professional salon hair curling iron with easy lock or unlock clamp for option, just press the button in lock/unlock position to opposite, then you could choose lock or unlock clamp freely. This product is designed with 2pcs PTC heaters, consistent heat, which is heat up very fast, used best quality Korea nano ceramic powder, advanced technologh, it can eliminate frizz hair.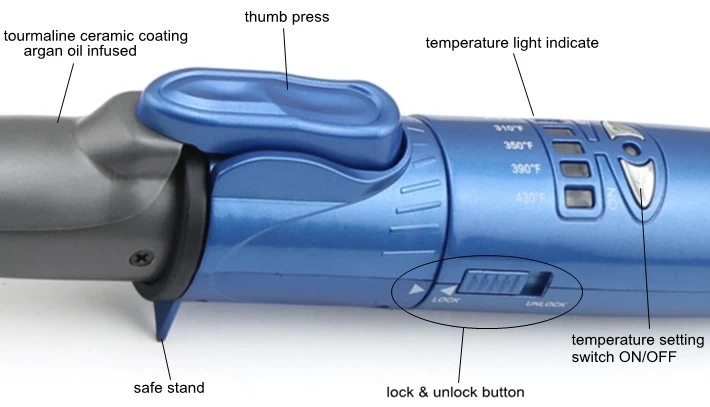 Shenzhen Fashion Beauty Technology Co.,Ltd
Tel:+86-13823651633
Contact Person:Ivy Yan
PDF Show:PDF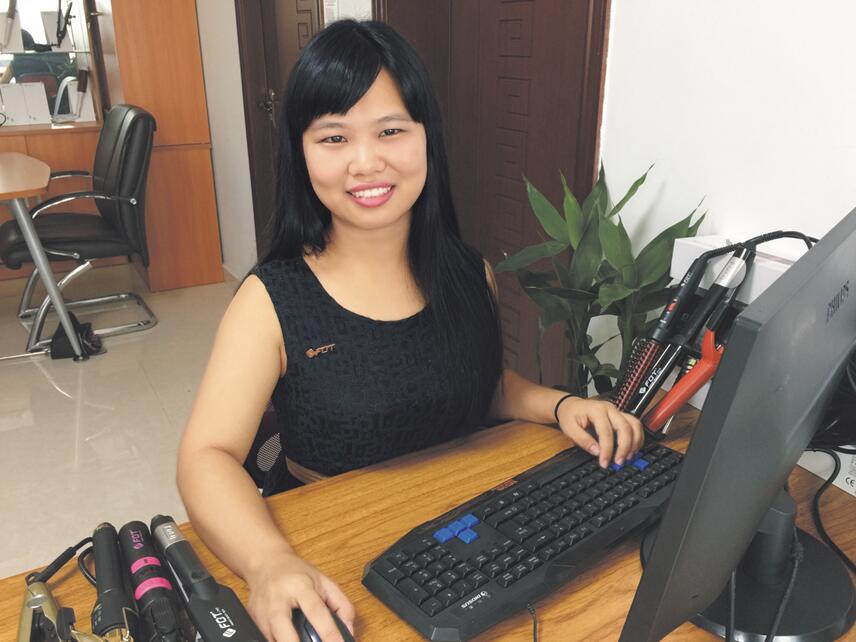 Other Products