How to curl your hair look as good and fashion with auto spin curler
Alice 2016-11-18 15:14:28
Auto Spin Curler is an amazingly advanced styling tool that will put a whole new spin at how you curl your hair. You don't need a lot of time and a lot of tools to style your hair with the curl, volume and shine that you want. Ordinary curling irons can cramp, crease and fry your hair. Hot curlers are too hot, hard to wrap and takes a lot of time. Curling wands can burn your hands with its blistering heat. Curling your hair need not be painful and should not require too much work. With Spin Curler, you can have perfect curls every time.
FBT, a chinese brand, uses the best technology in hair tools. You will fall in love with  them deeply because the magic auto spin curler allows the heat conducting without damaging the hair, ensuring shining and softness.
Here is our one touch spin curler, ionic technology, rotating ceramic barrel, make your hair look shining ,better  and last longer.
360 auto spin curler is an amazing advanced styling tools, you don't need a lot time to style your hair with curls, wavey, volume that you want.

Let me share with you guys the steps in creating perfect curls every day.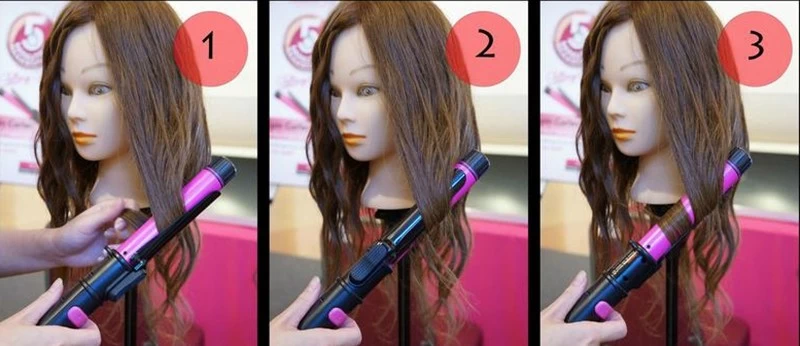 Step1: Before styling, please styling yout hair untangled and smooth.
Step2: Plug the curler and press the ON/OFF button to turn spin curler on.
Step3: Start from the root and hold the auto spin curler upwards parallel to your jaw.
Step4: Take a small sections of your hair and hold on to the left or right button on the handle. It will start spinning your hair over the curler.
Step5: After all the hair is wrapped on the barrel, stop rotating the clip and hold it for 3-5 seconds to fix the style.
Step6: Release your hair by rotating the clip on the same direction, you'll go with a perfect curl.
It is very important that your hold the barrel for 3-5 seconds to fix the style of hair to get a desired styling result.

As a visual learner, I also found YouTube videos of peeps https://www.youtube.com/watch?v=F_g6u_VWGd8. it shows that how easy it is to get perfect curl and DIY at home.